Stand Out in the Job Market
Expert CV & LinkedIn Insights
20 minutes walk-through video of your CV and LinkedIn profile with actionable feedback for helping you stand out in the sea of boring CVs and profiles
from Mihai, an ex-Meta tech lead with 15+ years of experience, who interviewed hundreds of engineers
Recruiters take ~6 seconds to decide if they'll contact you or not
If your CV and LinkedIn profile aren't crystal clear, they'll move on—even if you're the ideal candidate for the job.
But there's good news: I'm here to ensure that doesn't happen.
Based on my 15+ years of experience interviewing hundreds of software engineers, you will receive a 20-minute video including:
Detailed review of your CV

Detailed review of your LinkedIn profile

Actionable feedback across every section: education, experience, skills, personal branding, contact and more

Insights into the rationale behind each suggestion, so you can confidently update your profiles in the future

Special bonus: A few personalised tips for your next career steps, based on your current situation
Let's make sure your first impression lasts longer than 6 seconds.
I helped a large number of engineers achieve their goals
and you can be the next one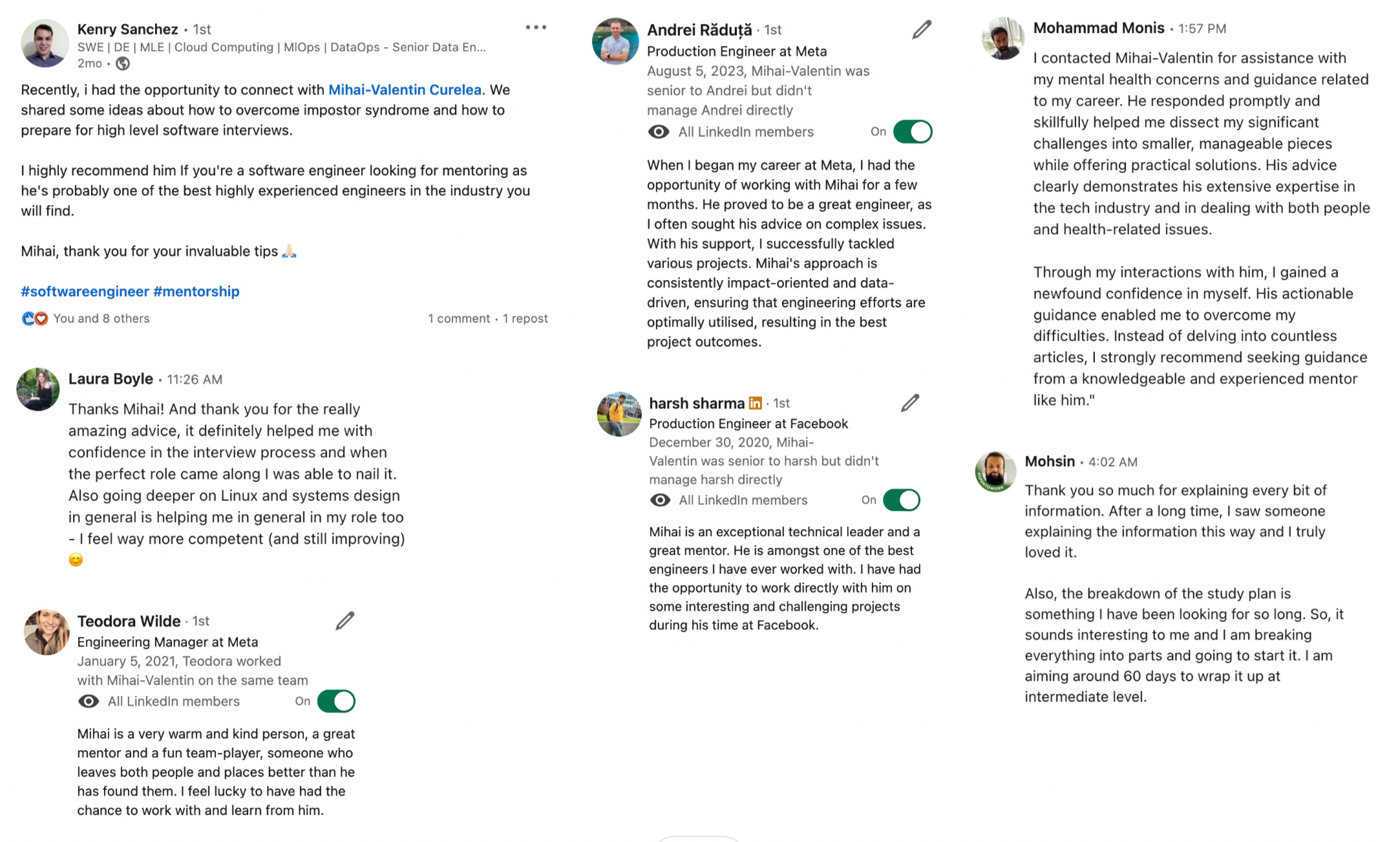 Frequently asked questions
Who is this for?
If you are a Mid level (at least 3+ years of experience) / Senior Software engineer, Software / Cloud architect, Tech lead, Data engineer, then this service can help you.However, due to the highly competitive nature of entry-level positions and the unique challenges faced by those with less than three years of professional experience, I made the decision to focus my services on those with three or more years in their respective fields.This decision allows me to ensure that I can provide the most effective and impactful assistance.
Why should I listen to your feedback?
I interviewed hundreds of engineers during my career of 15+ years of experience in companies like Meta (Facebook), Datadog, Adobe. I worked with hiring managers and recruiters to fill positions across all the seniority levels.I helped a wide range of engineers from all backgrounds and cultures improve their profiles and land the jobs they deserved.I'm also a mentor and want you to succeed. It's a pity to be highly skilled technically but not be selected for the roles you deserve!
What will I receive?
You will receive a walk through video with actionable advice for your CV and LinkedIn profile. See the video at the top of the page for a sample CV review.On top of this, I will explain the context behind the feedback, so it will help you build your profile for the rest of your career.And as a bonus I will give you a few suggestions for the next steps you can take in your career.
What do I need to prepare or send you?
After making the payment, you will be redirected to a confirmation page where you will be asked to send an email with with your LinkedIn profile url and CV (as pdf/doc).Also, it will be helpful to send the types of roles and companies you are looking to work on, so I can provide feedback towards those roles.
Is my information kept confidential?
Absolutely. Your CV, LinkedIn profile, and any other personal information you provide are kept strictly confidential and are used solely for the purpose of providing feedback.However, we may occasionally send you emails regarding new services or updates. Rest assured, your information will never be shared with third parties without your consent.
How long will it take to receive my feedback video after submission?
Typically, you'll receive your feedback video within 4 working days, but this can vary depending on demand.
Can you offer a discount?
While I don't offer discounts for this service, I can help you with either your CV or your LinkedIn profile for 40 EUR, and do a 10 minutes video walkthrough. Reach out to me via LinkedIn for a payment link for this.
Can you mentor me?
Yes, I also do mentor software engineers starting from mid level all the way to startup CTOs. Here are more details: https://mihaivalentin.com/#mentoring
Can I see a sample video?
Of course, it's at the top of the page. Keep in mind that the video you will receive will include more customized feedback and advice towards your profile and LinkedIn
About Mihai-Valentin Curelea
I am a Principal AWS Solutions Architect / Contractor / Freelancer / Technical leader / Trainer / Mentor with 15+ years of experience in companies like Meta (Facebook), Datadog and Adobe.
You can reach me via LinkedIn (I have open profile so anyone can message me) or via email at mihai.curelea.dev@gmail.com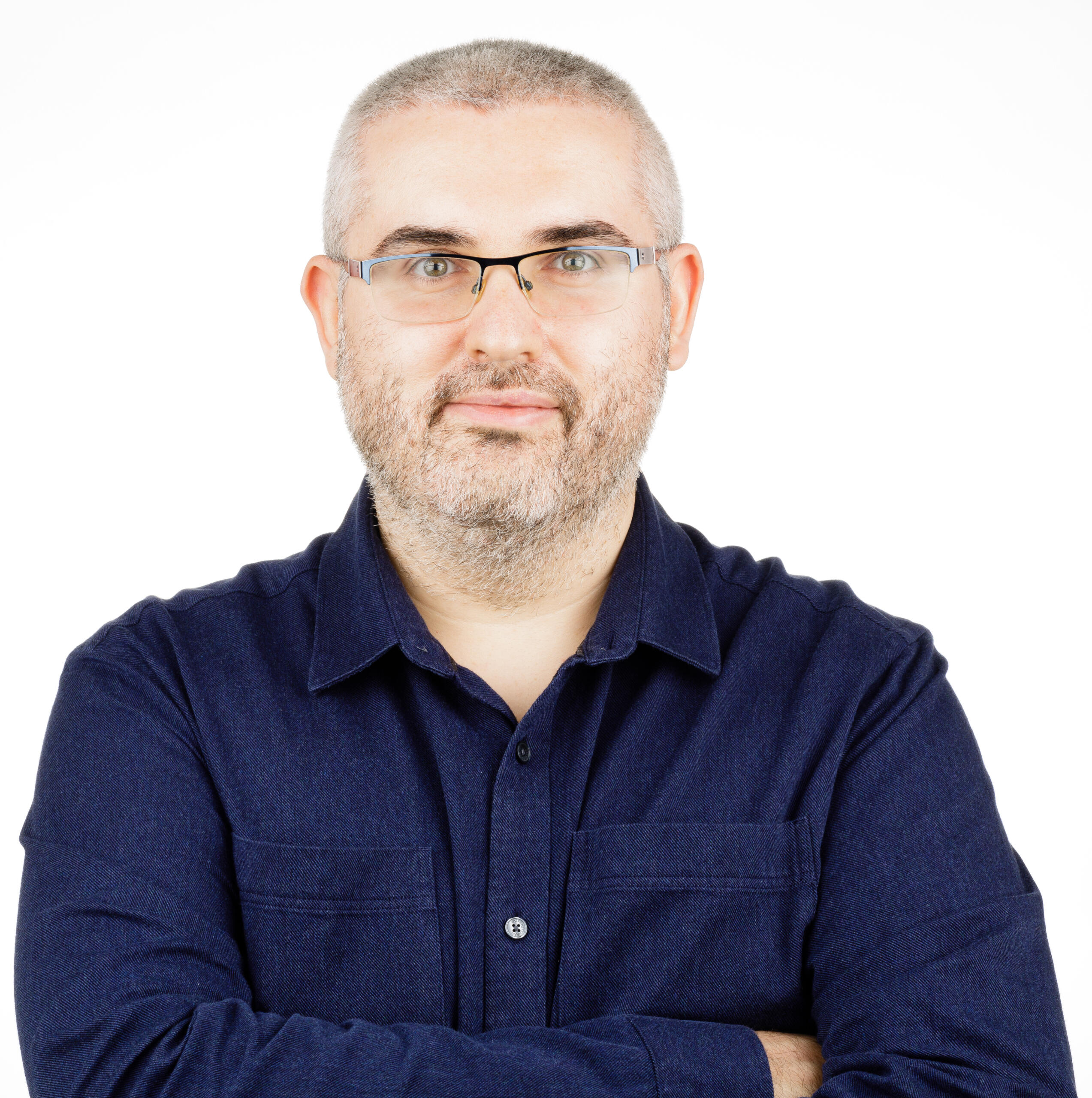 LinkedIn® is a registered trademark of LinkedIn Corporation and its affiliates. This website and the course offered are not endorsed, sponsored, or affiliated with LinkedIn Corporation. The use of the LinkedIn logo on this website is for illustrative purposes and does not indicate any relationship, endorsement, or affiliation with LinkedIn Corporation.
Thanks for your purchase!
Looking forward to review your CV and LinkedIn profile and provide the feedback you need to stand out and get recruiters to contact you!
Please send me an email at mihai.curelea.dev@gmail.com from the email address you used for the purchase, including the following:
Your CV (in PDF/DOC)

Your LinkedIn profile link

A short text about the roles you are looking to apply to
I usually complete most of the reviews in 4 working days, but sometimes even faster.
Best,
Mihai-Valentin